cuti aku sekarang dah semakin sikit. dan aku baru nak berjinak dengan library. buku-buku dalam pustaka miri tak banyak sangat yang ada kaitan dengan bioremediation. dalam 5 buah macam tu saja. dan aku cuma pinjam satu sebab bagi aku tu yang sesuai buat masa sekarang.
bioremediation: the use of microorganism for removal of pollutants such as oil, toxic or pesticide.
apa yang aku buat untuk fyp ni supervisor aku dah buat dulu. aku dah tengok dah journal dia dan gunakan microbes sama, Bionectria sp. baru aku faham. methods yang aku bagi untuk proposed fyp title ni salah :P malu aku. tu la gelojoh nak siapkan. haha. mati-mati aku ingatkan methods yang perlu ni ada guna haiwan hidup. nasib baik tiada nyawa yang bakal aku korbankan. syukur.
Bionectria ochroleuca : Yang ni spesis yang lecturer aku pakai which is ada characteristic untuk digest minyak dalam sesuatu keadaan.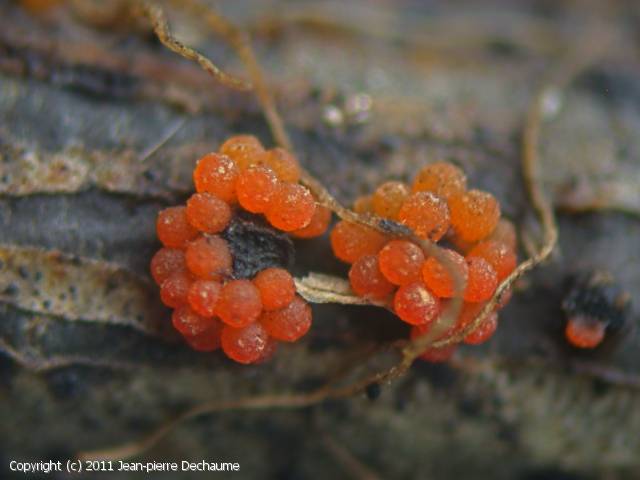 ini la spesis tu. fungi yang comel :P
tak lama lagi semester 5 dah nak bermula. aku mungkin duduk luar. mungkin duduk dalam. maksud aku tempat kediaman. hm aku tengah bercelaru lah juga. dah cari rumah tapi parents suruh stay dalam. bukan aku tak nak tapi probability aku stay dalam kolej adalah senipis gulan kapas yang baru diproses! huu kena panas terus cair. keputusan aku tak tau lagi. ya Allah bantu hambamu ini.
apapun, kita jangan lupa doakan kesejahteraan saudar islam kita di mana saja mereka berada. doa itu senjata muslim :)
*maaflah post kali ni tak berapa synchronized sangat.